Want to download Modern Love?
What is the Modern Love font?
Breaking from our catalog of typefaces to create a new handwritten font family, Modern Love was born out of our desire to see what would happen if we took a step back from the norm. We weren't looking for the perfection of the many calligraphy techniques, but more of a natural way of writing with the same tools. Our escapist experiment into casual lettering culminated into 4 fonts: Modern Love Regular, Grunge, Rough and Caps.
Modern Love Regular is a hand-painted script, each glyph individually designed with a pointed brush and walnut ink. The aim was to create an effortless hand-drawn feel while keeping the contrast high density.
Playful, yet polished, this font works very well when accentuated with the family's two distinctive styles: Modern Love Grunge, simulating a washed-out effect, perfect to add a vintage look to your projects; and Modern Love Rough, with its crunchy borders, makes letters visibly rough-around-the edges and gives large letters an unmistakeable pop. All three fonts include a hand-painted set of ornaments, swashes and alternates to limitlessly customize and decorate your texts, accessible through Opentype features.
Modern Love Caps is the fourth font, a handwritten Sans Serif that ties the family together with its simplicity and readability. Designed with a pointed nib and Indian ink, this font boasts a different style that perfectly complements Modern Love Regular, Grunge and Rough.
The result is a fresh font family perfect to create headlines, posters, DIY hand-lettered artwork, books, holiday cards, wrapping paper, invitations, T-shirts, labels, packaging for cosmetics, fashion supplies, food products, artisanal goods, and an endless array of options for your projects. Modern Love…when brush meets passion.
Check out also:
'Modern Love Slanted'
Turquoise
Nautica
Modern Love Font families
The Modern Love includes the following font families:
Modern Love Regular
Modern Love Grunge
Modern Love Rough
Modern Love Caps
Modern Love Preview
Here is a preview of how Modern Love will look. For more previews using your own text as an example, click here.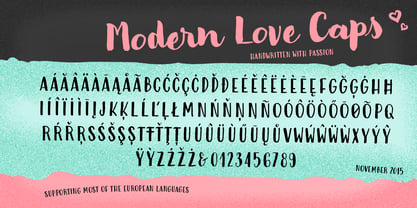 Categories accessible
Is Modern Love Free to Download?
No, i'm afraid not. Every single font that we feature on FontsPlanet.com is a paid-for, premium font. There is no point trying to find a free download of Modern Love so please don't waste your time looking.
It is highly unlikely that you'll be able to find Modern Love for free. There's a lot of websites that will say "Free Download" but these are just attempts to get you to click on a link which will either take you to an ad landing page or you risk getting viruses on your computer. In the rare occasion that you do find a free download for Modern Love remember that it's illegal to use a font if you didn't pay for it!
If you really want Modern Love and you want to truly own it the legal and safe way, then click here to visit the download and purchase page on MyFonts.com. Here you will be able to obtain the proper license. The designer and publisher deserves to be paid for their work, as they have put in the hours and the creativity to produce such an amazing font. Good luck with your purchase and future use of this font. 🙂